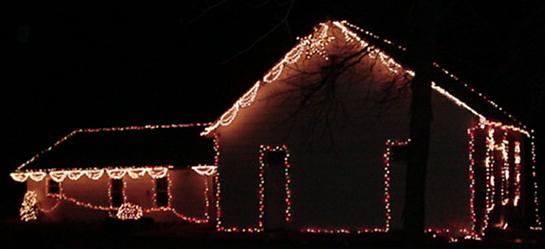 Welcome to another edition of Spring Grove's Christmas page! I would like to take this opportunity to encourage you to view our display in person. For directions, go to the directions page.
This year, in addition to the light display, several people in our congregation spent many hours creating plywood cutouts of scenes from Jesus' life. We hope to show that Jesus wasn't just a baby in a manger, he was our Saviour who died for our sins and rose again.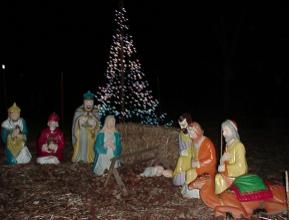 Left: Jesus' birth with wise men and shepherds. Right: Jesus as a boy beside his father Joseph.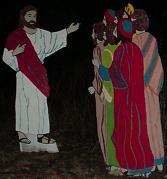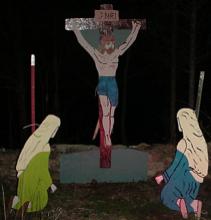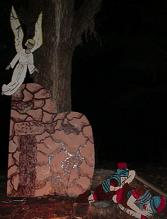 Left: The Sermon on the Mount. Middle: Jesus' crucifixion. Right: The empty tomb.
Of course, we still had our Christmas light display with around 8,000 lights. We decorated the church, parsonage, a few trees, and the fence.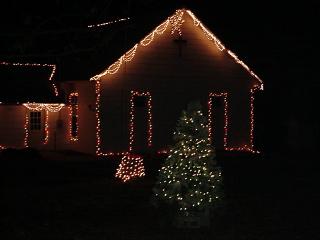 Another view of the church.


The parsonage was lit up, too.
In addition to the scenes of Christ, we used lights in styrofoam cups to make a phrase down our long chain-link fence.


Of course, that isn't too readable in such a small picture, so here it is again in larger pieces:






The phrase comes from a song by Chris Rice called "Life Means So Much" in the album "Smell the Color 9."
Congratulations to Forrest, Cathy, Mike, Jerilyn, and all the others who helped with decorations this year in order to make up for my inability to put up lights. It was a great display, and it told a great message!
sgmm.org  |  springgrovemeeting.org  |  Site Map