Merry Christmas from Spring Grove!

Here are the pictures from this year's light display. It was snowing when I took the pictures. It is sort of a nice effect, but sometimes it interferes with the pictures too much.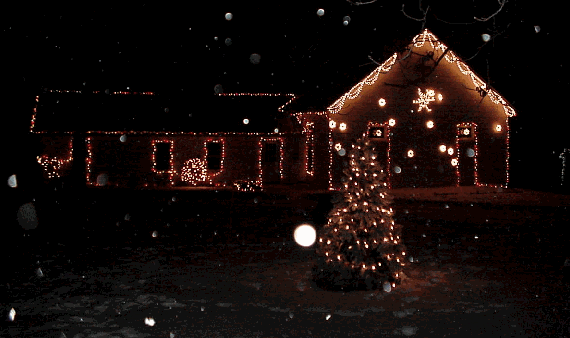 This year, Ian and I put up somewhere around 7500 lights on the church, parsonage, outhouses, fence, and surrounding property. We did the usual outline of the church, this time in color. We used those new swag-style lights on the peak of the sanctuary. On the front of the church we put randomly scattered snowflakes. The idea was to make it look like a snowstorm, and since I took these pictures while it was snowing, you can hardly tell that those are actually lights scattered across the front of the church.
We spent a lot of time this year working on the fence, trying to make a readable scripture verse. Unfortunately, it's not too readable. (The reason there is a blank space in the fence is because there is a tree in the way.) Next year, I'll try harder to make it so it can be read. I think that having a Bible verse on the fence helps bring back the meaning in what I'm doing with the Christmas lights, otherwise I might as well be promoting commercialism.


For unto you is born this day in the city of David, a Saviour, which is Christ the Lord.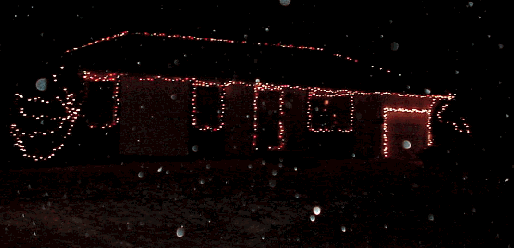 This is the parsonage. We used colored lights on the church, and clear lights on the bushes.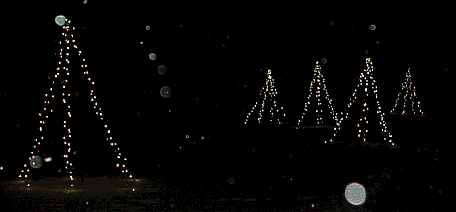 Down the south side of the driveway, we had a nativity set and a small forest of green light trees.
By the road, we had our "Merry Christmas" sign up with a star at each end of the sign.

Here's another shot of the church and the outhouses. The outhouses were done in blue lights, and the front outhouse has a snowflake on the side.
sgmm.org  |  springgrovemeeting.org  |  Site Map